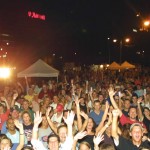 Fall in San Marco is always celebrated with outdoor events. After a painfully hot summer, finally fall is here. This Friday it is all about T.A.G.'s block party. T.A.G. always brings it with yummy food and drinks, live music and a fabulous party. The cost for admission is $25 per person and includes all you can eat and drink. You can make reservations or pay at the door.
Next Friday is San Marco Preservation Society's fall concert in the park. Local swing band Toots Lorriane & The Traffic will be rocking Balis Park from 6:00 p.m. – 9:00 p.m. Pele's Fire Roasted Pizza and Marble Slab will be on-site or you can bring a picnic. Beer and wine will be available for sale. Studio K dance students will be painting faces during the concert. You can even reserve a table for 8 or 6 through the San Marco Preservation Society.
Get out there and enjoy the fall.