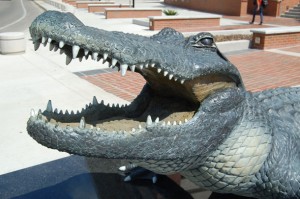 A solid debut for the Gators against FAU. Vanilla schemes on both sides of the ball, good effort, and some big plays to put the game away early.
The offense looks like it might actually have a clue this fall. Weis exploited Demps and Rainey all evening against a soft, deep zone. Brantley looks more comfortable, and his timing on the swing passes was very good. Not much shown as far as a deep game, but that was mainly due to the deep zones and also to not showing much on film for upcoming opponents. The OL played pretty well for a first game, with few penalties. However, the interior run blocking was no better than average, and must improve as the competition toughens.
The defense dominated the first half, but was a little ragged the second. Easley and the other DL looked very good, getting quick penetration on almost every snap, and playing the run well. The LBs flowed to the ball well, but were sloppy in covering the flats and TE. The young secondary wasn't really tested, but has a long way to go the be SEC-caliber. Decent tackling, but some silly penalties and blown coverages.  Finally, the news is good about the Sharrif Floyd suspension – he's out one more game (this week), and will return for Tennessee.
UAB comes the Swamp this week, and they should prove to be more of a challenge. The Blazers have plenty of experience going on the road to face top teams, and will be a good measuring stick for Florida to see how much the Gators improve after week 1. UAB runs a 4- and 5-WR spread offense, a completely different look for a young Gator secondary, and I expect some struggles this week.
The Florida OL has to continue to mesh, and it's time to show a little bit more downfield passing. I hope to see the TE become more of a threat this game. Demps and Rainey will always be capable of popping the big play, but consistent interior running lanes have to be made. The Gator defense will continue to rotate a lot of players in to get as much experience as possible before the SEC season starts.
UAB may stick around into the second half before Florida wears them down. It wouldn't be a bad thing to see the team pushed harder to see how the younger players respond to some pressure. The mantra continues to be weekly development, and NO INJURIES.
Prediction – UF 38 UAB 17